A VoIP Business Phone System for business based in Alcester
Vivi is a VoIP Business System provider for businesses based in Alcester. We make the process of adopting VoIP clear and simple, setting everything up prior to delivery and offering first-class customer care during the onboarding process and throughout your time with us.
Built and based in the UK
Our tight-knit, highly trained team deals only with UK businesses, so we really know our stuff. We understand what businesses need from a VoIP Business Phone System and we will always deliver you your perfect system.
Test out our phone system free for 30 days.  Contact us today and we can set you up with a few extensions to fully test our service and have access to our online system manager, no commitment and no card details needed.
Free Fanvil X7
When you choose an Unlimited Talk Plan*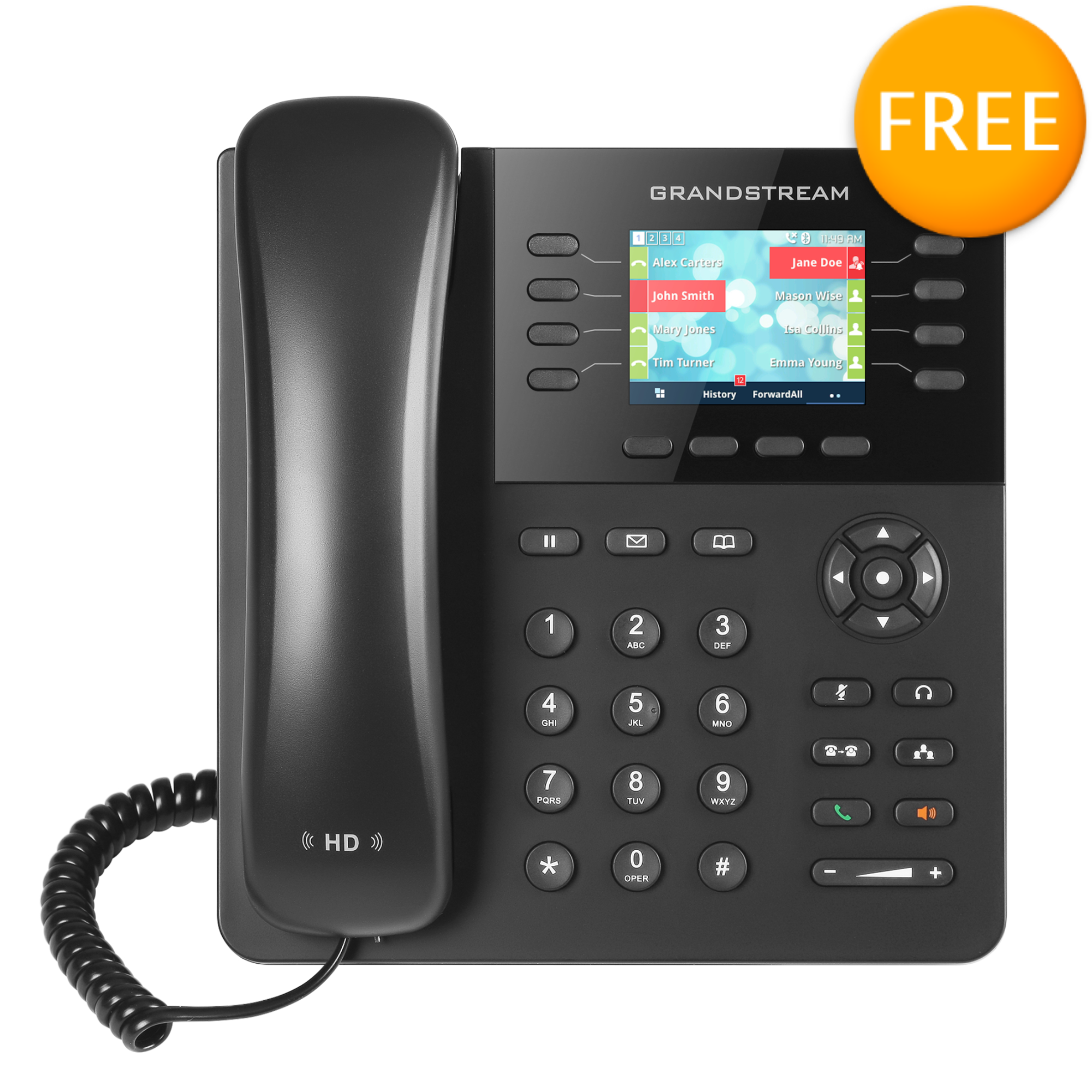 FREE GXP 2135
When you choose Talk More Talk Plan*
FREE GXP 1630
When you choose Talk Lite Plan*
20% off every Plan
when you bring your own device or opt to use softphones**
*Offer based on 36-month contract.  **Does not include any 30-day contract plans
Once you're ready to purchase your new vivi VoIP Business Phone System, we handle everything from start to finish. You don't have to worry about any complicated setup or expensive installation, your VoIP Telephony Systems extensions will be set up to your exact requirements and pre-configured prior to delivery, so all you need to do is plug them into your internet-enabled network and you will be ready to make and receive calls from your new VoIP Business Phone System within a few minutes – no technical knowledge required.
Smart, high quality cloud based phone system
Exceptional customer service
Powerful call control & productivity tools
Huge cost savings with unlimited calls for just £16 p/m
Real time analytics & system management
Keeps your growing business connected
Expert support and lifetime warranty
Using a vivi VoIP Business Phone System you can stay connected regardless of your physical location. There is no denying that flexible working options are now more important than ever, so allowing you and your staff to work away from your Alcester base is a big factor when considering your business communications.
With vivi as long as you have a stable internet connection, you can make and receive calls via your VoIP Business Phone System anywhere, and it will be as seamless as you all working from the same location.
Online Customer Management System
Once you have set up your VoIP Business Phone System account with us, you will have access to the online customer management system, this gives you 24/7 web access to your vivi VoIP Business Phone System and have the tools to manage, view and edit the system as and when you need to.
VoIP Business Phone System Pricing
Vivi have pricing options to suit all requirements, with low-cost talk plans where you pay for what you use, right through to VoIP Telephony System plans which include unlimited outbound calls and free handsets, you will always find the right plan to fit your business.
Vivi is not a reseller of someone else's product, we own and operate our own VoIP Business Phone System network meaning we can keep our costs low and our service levels high.
Plus, with no expensive installation costs, ongoing maintenance charges and no cost for support, you can be assured that you will be benefitting from huge cost savings!
Speak to us today to find out how much a new vivi VoIP Business Phone System would cost.
A rock-solid VoIP Business Phone System backed up by our vivi care service.
Our vivi care encapsulates the care and service that we promise to you. Throughout your time with us, you have access to our free VoIP Business Phone System 24/7 helpline, and we really do pride ourselves on our personal service. Once you have purchased your VoIP Business System, we will allocate you an account manager who will look after your account for the duration of your contract. With our 48-hour repair or replace guarantee, a support line which is always open and our friendly knowledgeable team, you can rest assured that your business communications are in good hands.
Included VoIP Business Phone System features
Our enterprise-level Business Phone Service features are included as standard. You can have as many users as you need (no restrictions) and choose exactly the features that fit your business. You can route calls depending on the day and time of day, greet your inbound callers with a bespoke message to introduce your business, and also allow customers to select options or departments to choose from.
Out of hours, you can choose to perhaps filter your VoIP Business Phone System calls to an emergency line, or straight to voicemail, which can be emailed to you allowing you to listen to messages wherever you are. The call queuing/stacking system ensures that callers will never hit an engaged tone and the follow-me service allows your incoming calls to reach you on your desk phone, mobile app or as a call forward to an external number.
Discover powerful VoIP features with vivi
Unlimited users
A phone system that grows with you, add extra users at any time
Auto-attendant menu system
Allow callers to choose an option/department to be put through to eg "Press 1 for Sales"
Personalised announcements
Greet your callers with personalised messages
Music on hold
Play music to callers when placed on hold
Live billing
Stay in control of your spending with a live view of monthly use, per extension
Live call stats
View live call statistics anytime you need to
Time-based call routing
Route calls depending on the day and time of day, perfect for out of hours services
Ring/hunt groups
Distribute incoming calls to individual or groups of users
Voicemail to email
Have your voicemails emailed directly to you as an audio file
Online system manager
View live call and billing information, download and pay for invoices, plus make instant phone system changes
Free 24/7 support
Our support team are available whenever you need it, anytime of the day
Click to call
Instantly click to call any number displayed on your chrome browser
Call stacking/queuing
Ensure that callers never hit an engaged tone, calls are stacked and handed to you from the cloud
Call forwarding
Send calls to another extension, or external landline or mobile number
Call whisper
Detect which service the caller is looking for, or use to differentiate between separate companies.
Inbound caller ID
View caller ID/telephone number of the inbound caller
Call hold
Easily place calls on hold
Call transfer
Transfer calls to other extensions, regardless of their location
Call conferencing
Hold conference calls with your colleagues or clients
Call divert
Divert calls to another extension, or external landline or mobile number
Temporary close service
Schedule closed periods in advance, or instantly, perfect for bank holidays or extended closed periods
Follow me services
Allow your incoming calls to reach up to 5 different destinations simultaneously, including your desk phone
Call barring
Block any inbound or outbound calls
Remote call pick-up & takeover
Pick up and/or takeover calls made to other extensions by intercepting the call
Remote call monitoring
Listen in to a live call on another extension, perfect for staff training
Unified phone book
All users can have access to a centralised list of contacts
Custom music on hold with announcements
Play announcements with or without background music to callers placed on hold
Call recording
Record all incoming and outgoing calls per extension
Fax to email
Send incoming faxes directly to an email address
Group ID
Group ID works on your phone's screen showing the name of the group, department or company your caller selected
Business telephone numbers
We have porting agreements with all major UK networks, meaning we can organise the movement of your telephone number from your current provider, to us. Porting a number to us is free, and usually takes around 7-10 days to complete.
If you are looking for new numbers, we have plenty available provided to us directly from Ofcom. Our virtual phone numbers work in the exact same way as standard numbers, but a huge difference is that you don't have to be physically located in an area to get that STD code, meaning you are not restricted to numbers from Alcester.
You can have as many numbers as you like, and they cost just £3 per month, we also have a fantastic selection of memorable numbers available, so if you are looking for something special, just let us know.
VoIP Business System Number options
VoIP Business Phone System 0800 freephone numbers
VoIP Business Phone System 033 local rate numbers
0843 National rate numbers for VoIP Business Phone Systems
Alcester local numbers
VoIP Business Phone System numbers for any UK area code
Memorable phone numbers for your new VoIP Business Phone System
VoIP Business Phone System Devices
The are many different devices to use to connect to your new VoIP Telephony System. You can choose from VoIP enabled Deskphones, cordless handsets, PC or mobile-based softphones, or you can even opt for a vivi VoIP sim card, the choice is yours.
If you are moving to us from a different VoIP provider, in most cases you can also use that old equipment, bringing your devices to us. As long as you have admin access to the handsets we can easily reprogramme these to work on our VoIP Business Phone System network.
Contact our friendly and knowledgeable support team to find out how a VOIP phone system from vivi can transform your business. With our FREE trial, and with 30-day rolling contracts available, there really is no risk.