Start-up business phone system
It's tough starting a new business, and a new telephone system using isn't the main focus when starting up – in fact it's usually one of the last things on the list! But choosing the wrong system or provider can be an expensive mistake!
Choosing a phone system that does everything you need, which is simple to install, will grow with your business and doesn't cost a fortune to set up is a great starting point.
We understand that startups have a tight budget, Vivi can provide a startup business phone system that doesn't cost anything to install, can be instantly deployed and even has a free purchase cost of handsets.
A Vivi Phone system is low cost, easy to manage and offers flexible working options.  You will be able to connect to your phone system anywhere with an internet connection (office, home office or even from your mobile phone).
You don't need to have any technical know-how to get your vivi system up and running.  The phones will be pre-configured prior to delivery and just need to be connected to your local network (via a router or switch) and within a few minutes they will be ready to make and receive calls.
Give your start-up business a professional image
Tell us exactly how you want your phone system to work, and we will build it for you.  We will create bespoke, professionally recorded announcements and with features such as Auto Attendant, you can create a great first impression to your inbound callers.
Never miss an important call
Vivi gives you the most up to date phone system, which is packed full of great features to ensure that you never miss any calls.  With call queuing, intelligent time-based call routing, follow-me services and voicemail to email – your calls will be handled with great care.
Start small & grow as you need to
Start with as many users (lines or extensions) as you need, and add more instantly whenever you need to.  You also have the freedom to choose your contract length, starting from just a 30-day commitment.
Phone numbers for all UK areas
We have telephone numbers for all UK areas, so you can choose whichever number you like.  One key feature that a lot of startup businesses take advantage of, is that you can choose a number for any area even if you are not physically based there – so you could for example be setting up your business from your home office in Birmingham, but you could add a London 0207/0208 number to your system, giving your business a presence anywhere in the UK
Alternatively, you can choose a local rate 033, national 084 or even a 0800 freephone, and of course, if you have a number you wish to keep you can move an existing number to us.
Free Fanvil X7
When you choose an Unlimited Talk Plan*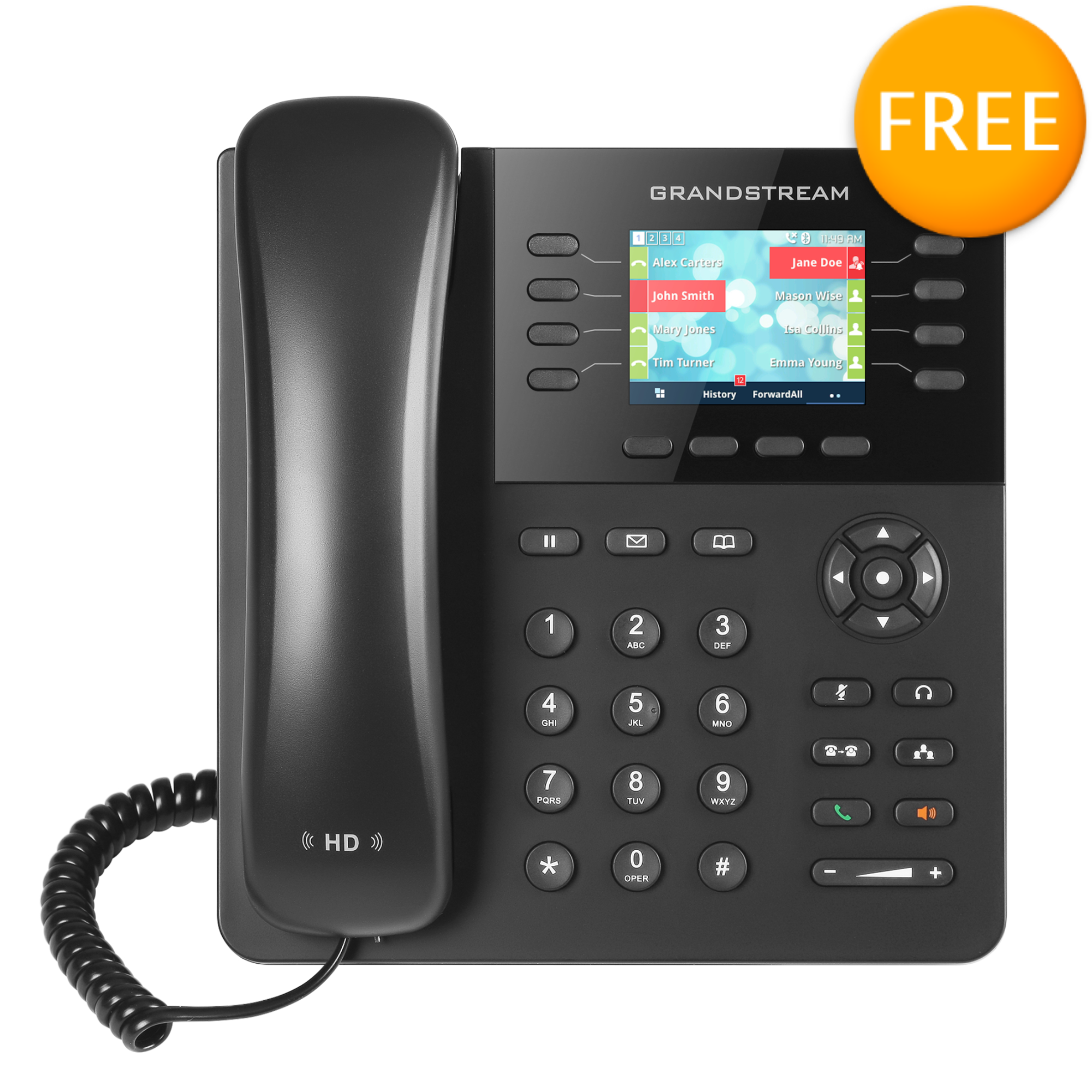 FREE GXP 2135
When you choose Talk More Talk Plan*
FREE GXP 1630
When you choose Talk Lite Plan*
20% off every Plan
when you bring your own device or opt to use softphones**
*Offer based on 36-month contract.  **Does not include any 30-day contract plans
Test out our phone system free for 30 days.  Contact us today and we can set you up with a few extensions to fully test our service and have access to our online system manager, no commitment and no card details needed.
Smart, high quality cloud based phone system
Exceptional customer service
Powerful call control & productivity tools
Huge cost savings with unlimited calls for just £16 p/m
Real time analytics & system management
Keeps your growing business connected
Expert support and lifetime warranty
Discover powerful VoIP features with vivi
Auto-attendant menu system
Personalised announcements
Remote call pick-up & takeover
Custom music on hold with announcements